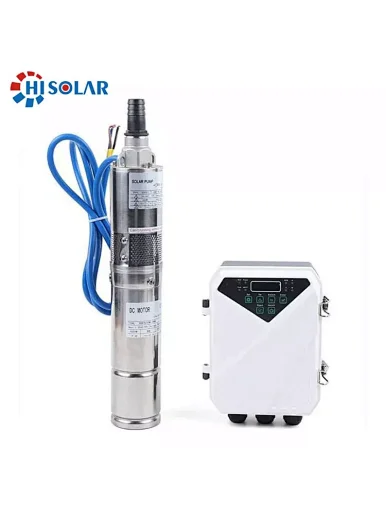 Contact us to get the customized solar pumping system solutions!
Brief Introduction:
DC Solar Pump consists of a solar pumping inverter and an DC pump. It has high reliability and an up to 98% conversion efficiency. The maximum water head of DC Solar Pumps can reach 300m
Power Range: 300 - 4000W
Water Head:  10-300M
Water Flow:  1 – 500 m³/day
Applications:
All kinds of DC pumps can be used in the solar pumping system. The application of solar pump is wide, such as farm irrigation, forest fire prevention, water supply of house and livestock, water treatment,fountain,swimming pool and desertification.
ADVANTAGE OF DC SOLAR PUMP
1、 Permanent magnet DC brushless synchronous motor: The efficiency is improved by 15%-20%; Save energy; Reduce the consumption of solar panels.
2、 Brass or stainless steel outlet/connector/ oil cylinder.
3、 Japanese NSK bearing: prolong the working life.
4、 Alloy mechanical seal: Longer working life and high reliability.
5、 Motor coil is made by automatic winding machine with centralized winding technology, motor efficiency is much improved.
6、 The pump parts are processed by high-precision and fully automatic machines, strictly controlling the dimension precision and smoothness.
7、 Intelligent water shortage and full water protection.
8、 DC Controller:
Waterproof grade: IP65
Ambient temperature: -15℃-60℃
MPPT function, the solar power utilization rate is higher.
Automatic charging function: Guarantee the pump normally working, meanwhile charge the battery; And when there is no sunshine, the battery can make the pump continuously working.
LED displays the power, voltage, current, speed, etc working condition and error code.
Frequency conversion function: It can automatically run with frequency conversion according to the solar power, and user also can change the speed of pump manually.
Automatically start and stop working.
Water proof and leak-proof: Double seal effect.
Soft start: No impulse current, protect the pump motor.
High voltage/Low voltage/Over-current/High temperature protection
9、2 years warranty.