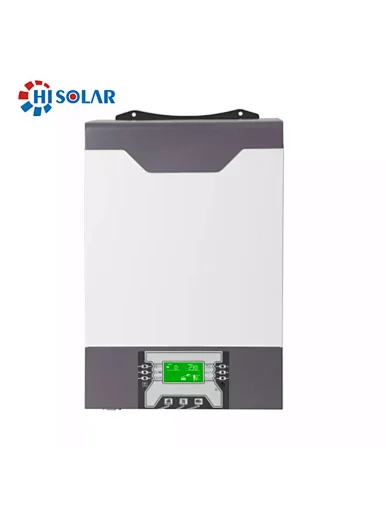 3KW 5KW 9pcs parallel Hybrid off
3KW 5KW 9pcs parallel Hybrid off
3KW 5KW 9pcs parallel Hybrid off/on grid Solar power Inverter with wifi function and workable without battery
MAIN FEATURES
1. With MPPT solar charger controller built inside, Max PV input power reach to 5000W.
2. Wide PV input range (Up to 450Vdc), can work without battery during the day time.
3. Built-in wifi for mobile monitoring (requires App)
4. Optional for parallel operation up to 9 units for 5KW
5.Selectable charging current based on applications
6. Configurable AC/Solar input priority via LCD setting
7. Smart battery charger and management for optimized battery performance.Compitable with LI Ion, LiFePo4 and ect.
8. 5KW Support Self-consumption and feed into the grid. Export excess pv power to grid via setting
9. Auto restart while AC is recovering, auto charge and switch, unattended operation
10. Various communication such as WIFI/RS485/RS232 optional.
11. High Efficient DC-To-AC Conversion.Minimizing Energy Loss and self power consumption
12.. All around protection functions: Overload/short circuit protection/high voltage/low battery voltage/high temerature,etc.
13. 5KW Optional for self-consumption and feed into the grid by setting.
ated Power

 3KW

 5KW

INPUT

Voltage

230VAC

Voltage Range

176-280 VAC at 100% load

110-280 VAC at 50% load

Frequency Range

50Hz/60Hz(Auto sensing)

OUTPUT

AC Voltage Regulation(Batt.Mode)

230VAC±3%

Surge Power

6400VA for 5 sec

10400VA for 5 sec

Efficiency(Peak)

>95% ( Rated R load, battery full charged

Transfer Time

10ms typical (UPS)

20ms typical (Appliances)

Waveform

Pure sine wave

BATTERY

Battery Voltage

24 VDC

48 VDC

Floating Charge Voltage

27 VDC

54 VDC

Overcharge Protection

32 VDC

64 VDC

SOLAR CHARGER & AC CHARGER

Solar Charger Type

MPPT

Maximum PV Array Open Circuit Voltage

500VDC

Maximum PV Array Power

4000W

5000W

MPP Range@ Operating Voltage

120-450VDC

120-450VDC

Maxmum Solar Charge Current

80A

80A

Maximum AC Charge Current

60A

PHYSICAL

Products Dimension,D X W X H (mm)

492*303*129

456*303*147

Product Net Weight(kgs)

10

12

Packing Dimension,D X W X H (mm)

570*395*215, 1PC/CTN

530*377*217,1PC/CTN

Product Net Weight(kgs)

11.5

13.5

Communication Interface

Removable OTG USB/RS232/RS458/BLE/Dry-contact,BMS interface,

OPERATING ENVIRONMENT

Humidity

5% to 95% Relative Humidity(Non-condensing)

Operating Temperature

-10℃ to 50℃

Storage Temperature

-15℃ to 60℃

*Product specifications are subject to change without further notice